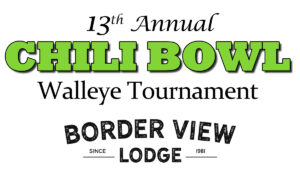 CHILI BOWL WALLEYE TOURNAMENT
OCTOBER 13 and 14, 2023

Registration Now Open - Register Below!

NEW:
We are adding a Rules Meeting and Prime Rib Dinner
the night before the tournament.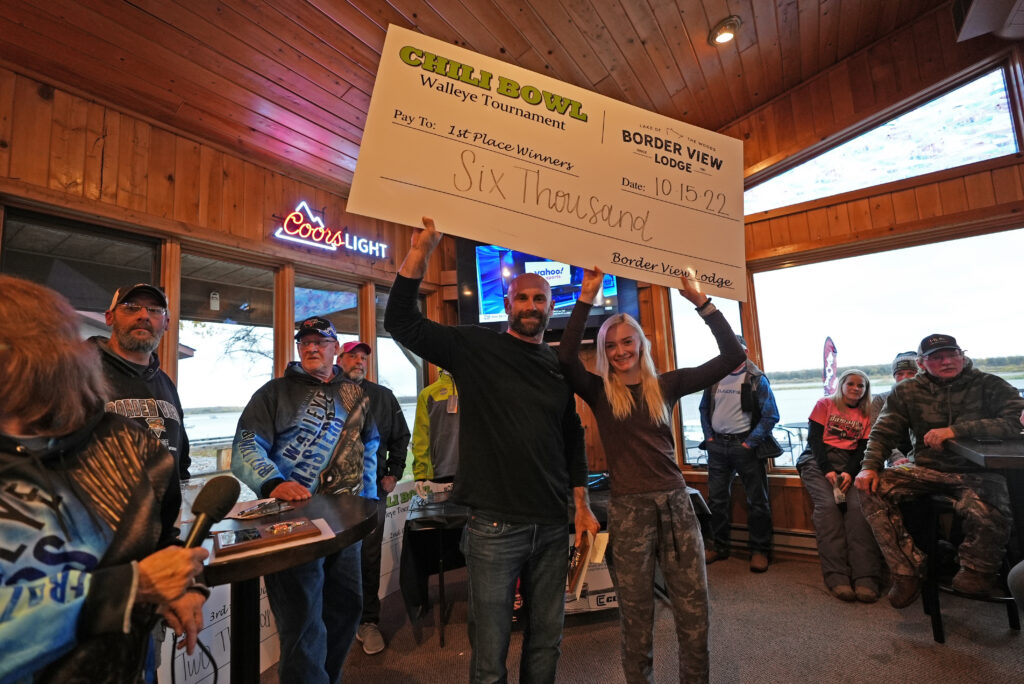 Congratulations to the top 3 Winners:
1st Place Olivia Olson & Chad Olson
2nd Scott Ballard & Rory Ballard
3rd Place Scott Robinson & Dale Boroos

Registration is closed. Please fill out the form to be on next years mailing list. Thank you!
PRIME RIB DINNER AND RULES MEETING - OCTOBER 13
WALLEYE TOURNAMENT AND CHILI DINNER - OCTOBER 14

Join us for our 13th annual walleye tournament on Lake of the Woods Rainy River.
Registration fee is $150 per angler and includes a prime rib dinner.
$17,000 PAYOUT!* 
14 boats will walk away with cash 
75-Boats, Two-person teams
Hosted on Lake of the Woods Rainy River
$300 per boat

Catch-Photo-Release (CPR) format

Chili Dinner during the weigh-in ceremony
Prime Rib Dinner and Rules Meeting the night before the tournament, October 13th at 6 pm
LOTS of great prizes and gear from our sponsors!*
PAYOUT MATRIX

*If we reach 150 anglers, there will be up to 14 teams getting a payout! Top amounts could be:
1. $6000.00
2. $2500.00
3. $1800.00
4. $1200.00
5. $1100.00
5. $1000.00
6. $800.00
7. $700.00
8. $600.00
9. $500.00
10. $400.00
11. $350.00
12. $300
13. $250
14. $200
To register, fill out the form below then call Border View Lodge to pay by credit card and complete your registration:
800-776-3474
Thank you to our sponsors!