September and October provide anglers with some of the best fishing on Lake of the Woods and the Rainy River. We are famous for our …
2022 CHILI BOWL RESULTS AND PRESS RELEASE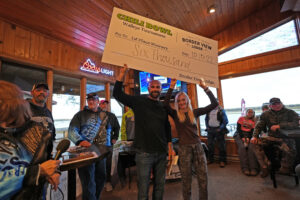 12th Annual Chili Bowl Walleye Tournament Anglers Get Big Checks and Big Bags

Baudette, Minn. (October 15, 2022) –  The 12th Annual Chili Bowl Walleye Tournament at Border View Lodge was ushered in with a typical October day on Lake of the Woods. But despite the chilly temperatures, there was a lot of great energy with some nice bags and fat checks for Midwest anglers. Hosted on the shores of the Rainy River in Baudette Minnesota, the Chili Bowl is a yearly walleye fishing tournament and chili dinner celebration that touts a great time as a fun tournament for non-professional anglers.

 

It takes the right recipe to put together a great fishing tournament, but a key draw of the Chili Bowl is the excellent opportunity for anglers to walk away with some money — 100% of the registration fees went directly into the payouts. Over $18,000 was given away with 22 anglers walking away with a check.

The top place finishing teams were:
First Place – Olivia Olson & Chad Olson with 19.02 pounds;
Second Place – Scott Ballard & Rory Ballard with 18.75 pounds; and
Third Place – Scott Robinson & Dale Boroos with 18.62 pounds.

With the maximum capacity of 75 boats registered, over 140 anglers competed to register the best of five walleyes or sauger in this catch-and-release format tournament. And the Chili Bowl reinforced its name with a free chili dinner after a day on the water for the anglers, as well as the public. "We were extremely excited with the amazing turnout and positive feedback," notes Vince Ojard, Tournament Director. "We've worked hard to grow this event and continue to make it all about the anglers.  Some nice checks were awarded, and the chili dinner was great too!"

 

In addition to the payouts, five anglers walked away with a new Clam walleye net. And everyone got a Chili Bowl Beanie. Marketing Director Dan Stefanich noted, "A really nice touch was the sponsor-provided swag and prizes. We wanted to make sure that all anglers walked away with something, not just the check winners."

As a catch-photo-release format, the Chili Bowl is a conservation-focused tournament that requires anglers to take photos and release their fish then convert the length of the fish into pounds. This format also enables anglers to record bigger fish that are outside the slot limit, which makes for an increased "bag" while still conserving the fishery. The Chili Bowl has boundaries that are confined to the Rainy River so anglers don't have to worry about high winds creating rough conditions like on big water, making this a great contest for guys with smaller boats.

The Chili Bowl partnered with several regional brands that offered some nice prizes at the event as well. Partners include Clam Outdoors, Blackfish Gear, Border Bank, Outdoors Again Sports, Midwest Outdoors and Flo-Fast.

2022 Chili Bowl results CLICK HERE!
BORDER VIEW LODGE TRANSITIONS OWNERSHIP
For Release May 16, 2022
Border View Lodge Transitions Ownership
Baudette, Minn. (May 12, 2022)- For most fishing resort owners, running a quality operation takes dedication, grit and hard work. And after many years of doing just that, Mike and Lisa Kinsella are proud to announce the transition of ownership of Border View Lodge on Lake of the Woods, Minnesota.
Since taking ownership in 1981, the Kinsellas and their family have been dedicated to creating a quality fishing experience on Lake of the Woods. With both open water charter and guided ice fishing, Border View has been a destination where anglers and their families have come for generations to catch walleye and create memories.
Owner Lisa Kinsella notes, "We're grateful to our employees and all of our guests that we've hosted over the years. These wonderful people have helped make Border View Lodge what it is today…a place that offers a quality Northern Minnesota fishing adventure. After putting our hearts and souls into the Lodge, we're ready for our next chapter."
Resort owners and business partners Joe Swanson and Pipasu Soni will take over the helm at Border View. No strangers to the fishing resort business, Swanson and Soni know the importance of the legacy of an established destination. "We're incredibly excited to be able to step into a resort that has been serving anglers and their families for generations," notes Swanson. "We are dedicated to continuing the Border View services and tradition that Mike and Lisa have worked so hard to build, providing an outstanding fishing experience to long-time customers."
Border View Lodge is located on the Rainy River at Lake of the Woods in Baudette, Minnesota and provides charter and guided fishing for walleyes, northern pike and sturgeon. Lake of the Woods is a walleye fishing mecca and known as the "Walleye Capital of the World"..
If you've never spent a night in a sleeper house… Watch this video as Matt Johnson and his three boys spend a couple nights on the ice in one of our sleeper houses. These boys can fish!!
Have you fished our Chili Bowl Walleye Tournament?
We host a walleye tournament and Chili Dinner every October on the Rainy River.