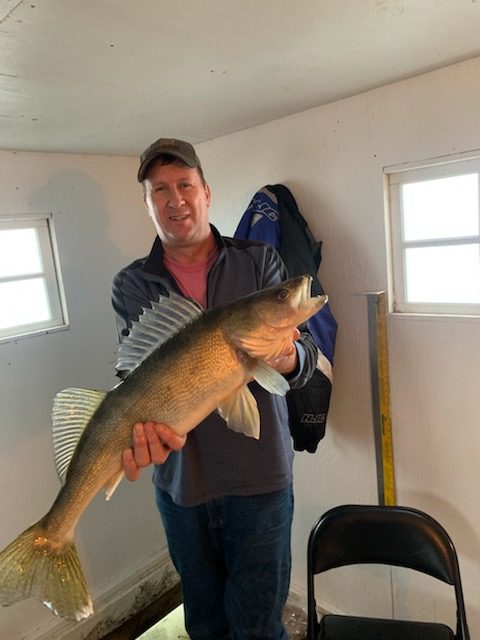 The Winter Season Has Been Going Really
The winter season has been going really well. We have had houses on the lake since Wednesday the 8th. There has been a great number of fish being caught, many little ones, which at times provide constant action allowing the Angler to use only one line. Anglers have caught many large Walleye, Northern and Sturgeon already this year. Presentation has not been much of a factor. A lively minnow on a hook is mostly what is important.
The ice situation is looking great right now. We had some ups and downs to start the month off. There was a layer of ice across the lake on the 1st of December, then on the 2nd we received strong winds which opened most of the lake back up. The wind created piles of broken ice, or open holes between those piles. Then drifting snow filled in the gaps. These spots have still not recovered completely and some of the areas covered with snow are still wet and may only have 4 inches of ice. Other resorts have been struggling with these spots. Fortunately for us, the area we started the season at was not impacted by the freshly opened water or the drifting piles. Additionally, the wind did not stir the bottom of the lake, having clear water is a great benefit. We are sitting on 10-12 inches of nice clear ice. Currently we are partially limited with options of moving or spreading out too far too soon. The bite has been holding on very well, so if we do not have to move further out yet, that is fine and allows more time for the ice to build further out.
The forecast is single digits and below zero for the overnights this week with nothing over 30 degrees through Christmas. The lake should continue to be making ice with this forecast and we hope that soon after Christmas half ton vehicles will be able to drive out.
Merry Christmas!
FISH ON!
1-800-PRO FISH