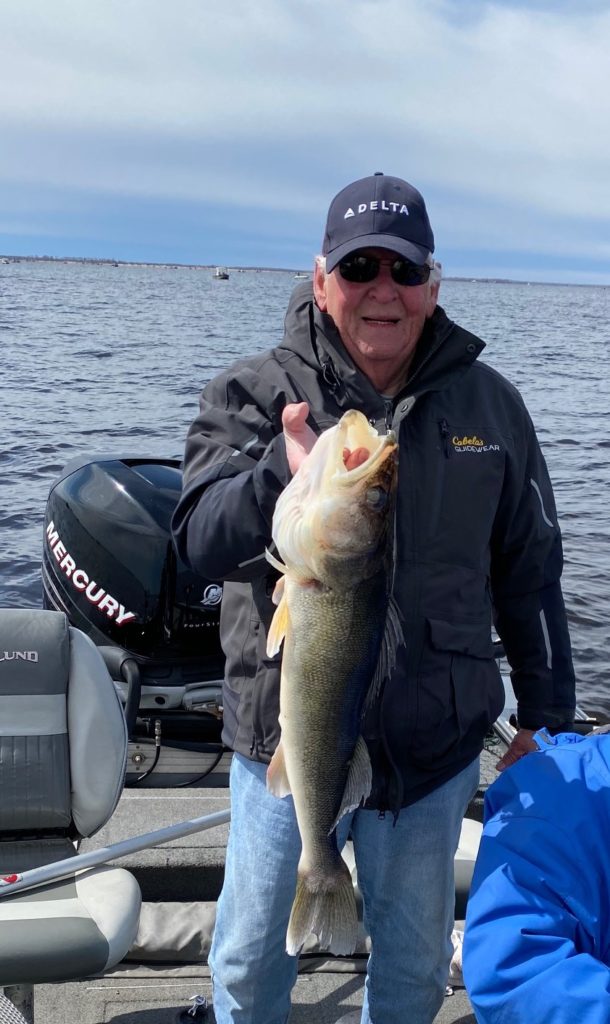 There has been some great fishing success and great weather this past week!
LAKE OF THE WOODS ORIGINAL WEEKLY FISHING REPORT May 17, 2020
There has been some great fishing success and great weather this past week!  70 degrees and sunny for yesterday and today.  Being here and enjoying the outdoors is safe, if you do things safely.  You will do the same things to stay safe here as you do at your home.  Stay safe, and go fishing!
Anchored and jigging is the go-to, which is nothing new for Lake of the Woods this time of year.  Morning and evening bites from 16 to 20 feet of water have been consistent while the midday bite has been starting at the 24-foot mark.  There have been some spectacular catches and many big Walleye returned to the lake after battle.
Most Anglers are staying close by, although a few have ventured to the Knight and Bridges Island areas.  We are still unable to have our Charter boats insured with the current Law from the Governor.  We are really struggling with the idea that 3 people can be safe on a 16-foot boat, but not a 27 foot one that is 10 feet wide.  Our Guides are ready, and we will be ready to go, as soon as we are allowed.
As far as virus safety goes, there are too many things we are doing to mention them all here.  We continue to provide as many services as possible by continuing new cleaning and process regimens.  We are doing many things to keep our work environments and cabin spaces clean and disinfected.  We continue to provide all towels and linens with washing of all items before each rental.  All dishes, pans, utensils etc. are sanitized before each rental.  Guests are not required to wear face masks, but need to follow the 6-foot social distancing on the property and docks, and no more than one group at a time in the fish cleaning house.   There is bleach provided in the fish cleaning house, so in addition to us cleaning it more often, each group should be spraying down and rinsing their area after use.
The waves today were under 1 foot, tomorrow they are forecasted to be about 1 foot and Tuesday 1 .5 foot.  The temperature forecast shows our low for the week is 48 and a high of 78.  Whew, that's like summer!  The buds are starting to pop.
FISH ON!
1-800-PRO FISH