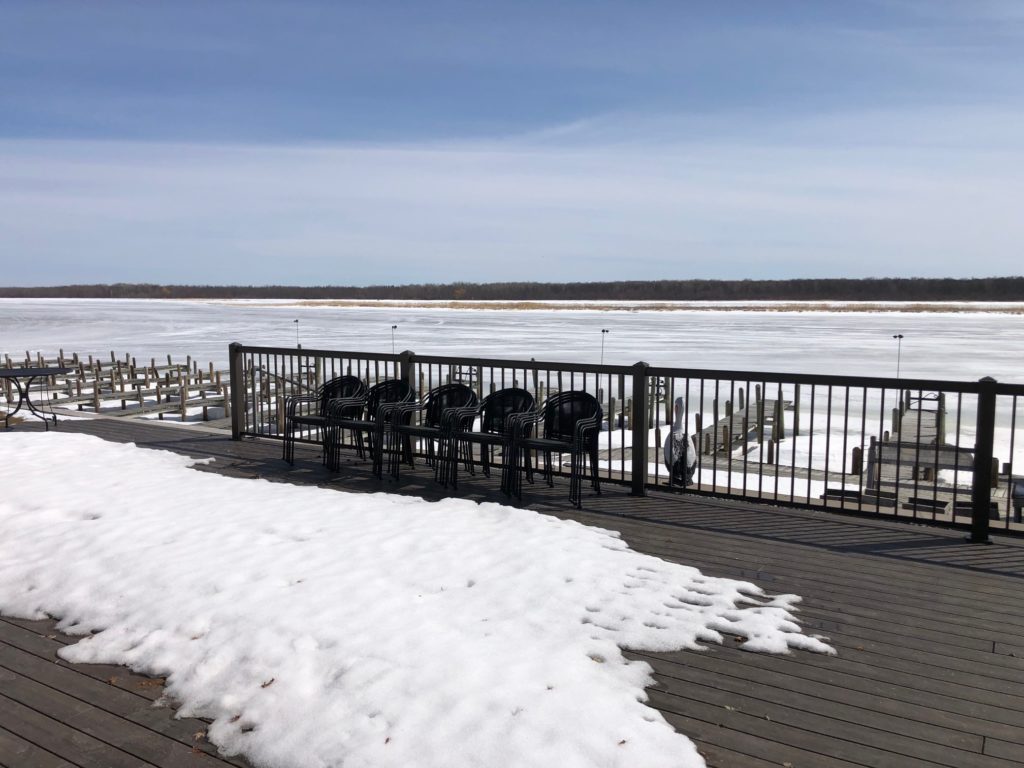 We are continuing with a business as usual approach
Not much for actual fishing information to report on this week.  It is out of the norm for us, we feel we are at our best when guests are here.  It proves to us how much we appreciate all of you and miss having you around.  We are thankful for being able to serve so many generations of families spanning decades.  We are grateful that so many people have put their trust in us.  Without your passion and respect for our waterways and community we would not be able to fulfill our need to serve you.
As far as fishing information goes; while there is still plenty of ice on the lake, we do not see the river ice opening up any time soon.  It has been a few years since we were able to have houses on the lake to the end of March, this year we have the ice.
We are continuing with a business as usual approach, so when the day comes and are back to normal, we will hit the ground running.  If you choose to cancel, please do, we are not enforcing deposit requirements at this time.  If your group wants to guarantee the spot and have your deposit paid, that's great.  Currently, what we will be asking of the groups who do not make deposits, is to ensure us that we are not holding the date for you when it should be made available for someone else.  As always, if Border View Lodge is unable to, or prevented from making your reservation happen for you, we would refund any deposits made.
Because the lack of fishing information, maybe we have other things to share.  Some of you may not know, Lisa and my history in the hospitality industry goes back to 1980.  Whew, that's 40 years.  Mike's 1st jobs were cleaning apartment buildings and paper routes for the Star Tribune and Bloomington Sun papers, during high school, Lisa and Mike had jobs with beginner positions like dishwasher, cook and server.  Places like Bridgman's and Pizza Hut were always busy. It was on the job training for us.  In those days; clean uniforms, and attentive service were keys to success.  Thank goodness cell phones did not exist.  The biggest fear and distractions we faced were having friends or family become customers while on a shift.  I am thinking that may still be true today.
We wish everyone health and wellness and will be patiently waiting the day we can wet a line.
FISH ON!
1-800-PRO FISH